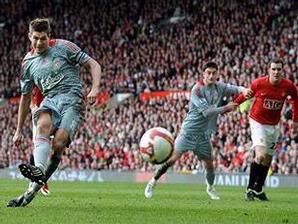 It had looked rosy when Cristiano Ronaldo converted a first-half penalty, but an uncharacteristically nervy display at the back allowed Liverpool back into this match; and the subsequent 4-1 defeat means the Reds' lead at the top is chopped to four points, albeit with a game in hand.
Ronaldo put United ahead but three defensive mistakes led to Liverpool goals, and Nemanja Vidic's second-half sending-off, which preceded the visitors' third goal, put paid to taking any points. In truth, this wasn't a great day at the office, it never quite clicked into place. But one thing is certain: this defeat must be used to propel the Reds forward in the title race. The team responds well to set-backs, and this is only a minor stumble.
United made three changes from the team that beat Internazionale in midweek. Whereas Sir Alex chose the experience of Paul Scholes and Ryan Giggs against Jose Mourinho's men, the Reds boss favoured the energy and youthful vigour of Anderson and Ji-sung Park, while Carlos Tevez partnered Wayne Rooney in place of Dimitar Berbatov.
It must have stuck in the throats of Liverpool's players and fans when United were welcomed onto the field as "the Champions of England, the Champions of Europe, and the Champions of the World". Such is United's dominance these days that the roles are reversed from when Liverpool dominated at home and abroad years ago.
The shouts of "United, United" were deafening as the teams kicked off, and the sheer gravity of how potentially decisive this match could be added extra spice, though it was hardly needed. Liverpool, who knew that they had. http://www.manutd.com
==============================================
Liverpool menghancurkan sepuluh pemain Manchester United pada duel lanjutan Liga Inggris di Old Trafford, Sabtu (14/3). Tim tamu menang 4-1 sekaligus menghambat laju MU mengejar juara musim ini.
Ini merupakan sejarah baru bagi Liverpool, yang selalu kalah di Old Trafford sejak lima tahun silam. Kemenangan "The Reds" di kandang MU terakhir kali terjadi pada April 2004, saat Gerard Houllier masih menjadi pelatih. Kemenangan ini sekaligus merupakan kemenangan ke-100 di Premier League bagi pelatih Rafael Benitez sejak datang ke Anfield pada Juni 2004.
Kemenangan "The Kop" pun serasa manis karena hasil ini membuat posisi mereka naik ke urutan kedua dan memangkas jaraknya dengan MU menjadi berselisih empat poin. Chelsea bisa memanaskan persaingan perebutan gelar musim ini jika berhasil mengalahkan Manchester City, Minggu (15/3).kompas.com

===========================
Manchester United hancur lebur
itu yang bisa aku katakan sesaat setelah menonton pertandingan MU vs Liverpool. Semangat pemain Liverpool mampu mengatasi daya magis Old Trafford. Well "bola bundar" jadi menang kalah adalah hal yang wajar. Congratulation to Liverpool and for Manutd ... keep going :)

Man United 1
Ronaldo (23)
Liverpool 4
Torres (28), Gerrard (44), Aurelio (77), Dossena (90)

Share this on your favourite network