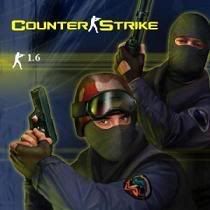 Generally the most popular release of Counter-Strike. Radio commands were changed back to only audible by teammates. A delay while landing from jumping was incorporated to discourage "bunny-hopping.
New Features:
- Playable on LAN and Internet
- Half-Life (Singleplayer & Multiplayer) included
- New Sprites
- NonSteam MasterServer included
- No more Invalid CD-Key errors
-Includes the Dedicated Server Tool
- Addons Pack included
- Latest engine update (15 October 2007) Some features changed
becaus bug and they make publicity for Team Forst 2, Half-Life Episode 2 and Portal.
- Latest cracked listen server (everyone can join)
- Added latest CZ bots modified

- Realistic Hostage
- Overviews Fixed
- VGui Fixed
- Blood/Spraylogo Fixed (.wad-Files)
- Background Fixed (cstrike, valve)
- Preconfigured
- New Models
- Latest cracked listen server (everyone can join)
- Latest cracked dedicated server (everyone can join)
- motd / commandmenu Fixed (New Addons)

And most importantly, it's 90 MB compressed and 180 MB uncompressedMB. Also, this version was repacked by kiran_n444(me) so that it doesn't extract anything into your ram, which means it runs smoothly even on 128MB Ram xD This is the CW Repacked Edition xD Have Fun

Download here :
CS 1.6 portable

Share this on your favourite network