Federico Macheda became an instant Old Trafford legend when he scored a stunning injury-time winner on his debut against Aston Villa in April 2009.
Aged just 17, the young Italian told MUTV it was "the best day of my life".
But while that goal heralded Macheda's arrival on the biggest stage, his prowess in front of goal has been apparent ever since he arrived at United in September 2007. Indeed, just six days before his Villa winner, the boy they call "Kiko" netted a hat-trick for the Reserves in a thrilling 3-3 draw at St James' Park.

Formerly a member of Lazio's

youth system, Macheda signed professional forms on 22 August 2008. A powerful forward with a natural eye for goal, he was born in Rome and is regarded in Italy as one of the most promising prospects of his generation.

Having relocated to England to further his career, Macheda has quickly moved up the ranks at United. He started out in Paul McGuinness' Under-18s side, but has become a regular in Ole Gunnar Solskjaer's Reserves.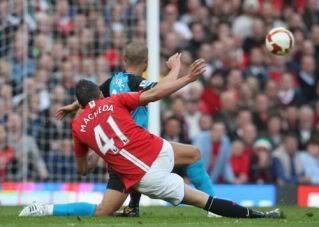 He began the 2008/09 campaign with a fine goalscoring run in the youth team and quickly translated that to Reserve team football.

His strength on the ball, positional sense in the box and clinical finishing haven't gone unnoticed at the very top: Sir Alex Ferguson handed him a Champions League squad number midway through the 2008/09 campaign and then showed stunning judgement to introduce him against Aston Villa just when the Reds needed a goal most.

I think this is a Great Player.

Share this on your favourite network